Climbing for Groups
x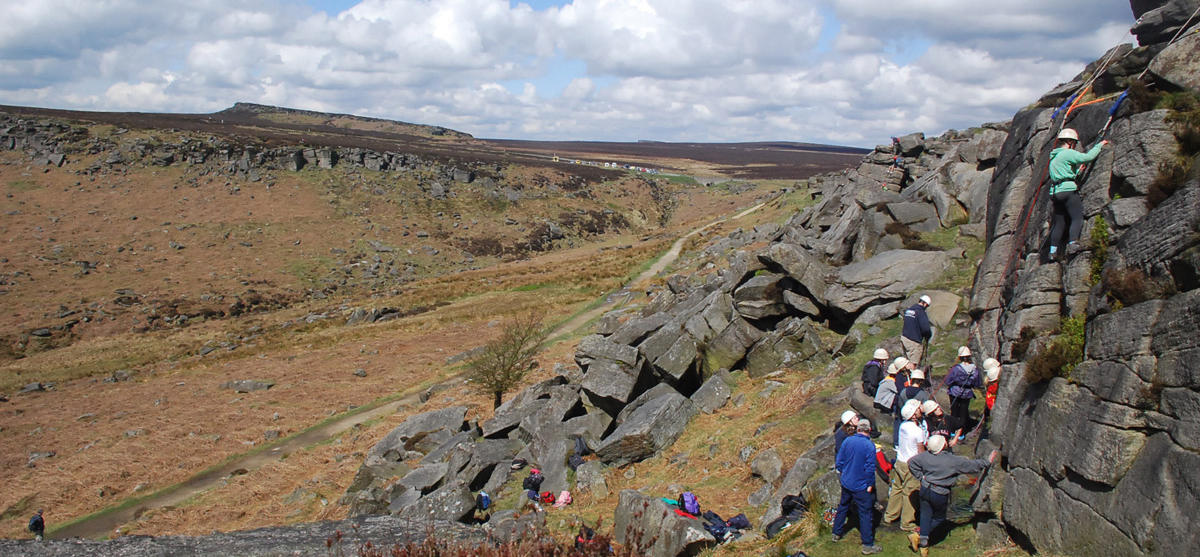 At the Gearshack we're associated with The Trekking Company - one of the UK's biggest independent outdoor companies, established in 1989. TrekCo run group climbing sessions in The Lake District, Peak District, Sussex, North Wales and the French Alps and have several holders of the MIA (Mountain Instructor Award) among their ranks. This depth of experience tells us what works with groups - whether peer belaying, which type of harness fits most easily, what wears out quickest - we've seen the lot!
Harnesses
Most sit harnesses designed for centres are pretty good nowadays in terms of design; the principal differences being in convenience for the instructor. Ease of putting a harness on after it has been thrown into a bag with 20 other harnesses is crucial; as is how long the harness lasts, easy tie-in point and so on.
Some features to look for:
Obvious attachment point. - On a Black Diamond Variospeed group harness, the tie-in loop is very large, orange and stands up well due to its stiffness. It also has a label on it saying, 'Tie In Here'. This is usually obvious enough for anyone!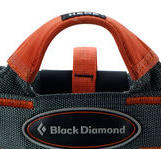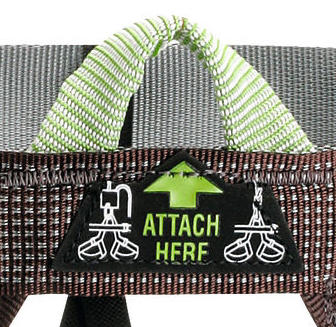 Wear and tear - harnesses usually wear by fraying, generally at the attachment point. This therefore needs to be reinforced with extra material.
Big buckles - buckles that are bigger usually offer smoother adjustment. DMM harnesses and Black Diamond are good for this.
Avoid extra loops - for example, gear loops at the side. For beginner groups these can only be a distraction and lead frequently to people clipping in to the wrong place. They serve no function in real terms and cost extra anyway! For example, the Petzl Pandion is the same as the Gym but has a gear loop, so we don't use these.
Traditional vs. 'ABS' style buckles - traditional harnesses require the user (or instructor) to double back the waist or leg loop. 'ABS' style harnesses have buckles which can't undo. The latter are much safer for groups. Unless you have a specific reason to use traditional harnesses like to are teaching people to climb over a longer period and need them to be aware of doubling back, then use ABS. For groups only doing climbing once, teaching doubling back is a waste of their activity time and introduces unnecessary potential for error. What do they gain by learning to double back a harness?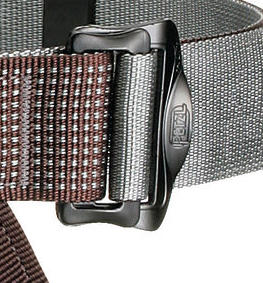 Overall, most harnesses made now have been refined over the years and are up to the job. We use principally Black Diamond Variospeed, backed up by Petzl Aspir - but DMM Centre Alpine are very popular too.
Helmets
You might not always be asking your climbing group to wear helmets, depending on where you are. Many indoor walls don't require helmets and would in fact prefer that participants didn't wear them. This often comes as a surprise to the public - surely helmets = safety on all occasions?
However instructors will be aware that helmets can be hazardous if they catch on holds when lowering, can impede hearing instructions, and so on. Helmets are in fact designed to stop rocks hitting people's heads, and are otherwise mainly useful for bumping your head when rock scrambling or 'weaselling'.
What to consider when buying helmets for groups?
Clearly most helmets will comply with regulations and will be good enough technically. Mainly you're looking for comfort, a wide range of fit and ease of fitting on to many young heads at once. So the most important bit for you is the buckle/adjustment arrangement inside the helmet. This should be easy to adjust and also not break after a few weeks of use - a common fault. Many buckles either break, the ends come off or they get bent and won't do up.
The winner? - By a mile, the Edelrid Ultralight. Save yourself a fortune in the long run as there's nothing to go wrong on these, they adjust quickly and are all-round tough lids.
Other contenders - Camp Rock Star as it's 30% cheaper and almost as good, and, er... that's it!
Don't forget to order your helmets in the colour you want - this is more important than it seems! And check out our article, 'Can I put a sticker on a climbing helmet?'.