Working at Height
12th December 2017
Work at Height
'Working at Height' is now more than simply a phrase - it is an area of regulation covered by the Work at Height Regulations of 2005, and anyone working at height or employing people to do so is covered by these regulations. The text of the regulations can be seen at: http://www.opsi.gov.uk/si/si2005/20050735.htm



A Hard Hat is Essential


Climbing Instruction and the Work at Height Regulations
This created some concern in the world of climbing instruction, where it became apparent that instructors would have to work in pairs, always use two ropes, and strictly speaking even carry yellow plastic signs up mountains to warn each other that they were working at height! Therefore in 2007 there was an Amendment, which in part says:"Special provision in relation to caving and climbing 14A.—(1) Paragraph (2) applies in relation to the application of these Regulations to work concerning the provision of instruction or leadership to one or more persons in connection with their engagement in caving or climbing by way of sport, recreation, team building or similar activities. (2) Where this paragraph applies, an employer, self-employed person or other person shall be taken to have complied with the caving and climbing requirements, if, by alternative means to any requirement of those requirements, he maintains in relation to a person at such work as is referred to in paragraph (1) a level of safety equivalent to that required by those requirements. (3) For the purposes of paragraph (2), in determining whether an equivalent level of safety is maintained, regard shall be had to — (a) the nature of the activity; (b) any publicly available and generally accepted procedures for the activity; and (c) any other relevant circumstances. (4) In this regulation — (a) "caving" includes the exploration of parts of mines which are no longer worked; (b) "climbing" means climbing, traversing, abseiling or scrambling over natural terrain or man-made structures; and (c) "the caving and climbing requirements" means regulation 8(d)(ii), so far as it relates to paragraph 1 in Part 3 of Schedule 5, and that paragraph.". Climbing instructors were therefore able to continue as they had beforehand.
Much very useful information regarding equipment can be found on the websites of each manufacturer - see our 'Manufacturer websites' page.

It is important to understand, particularly if purchasing for work, the implications of your purchasing decisions - you are legally obliged to provide appropriate work equipment (see Provision and Use of Work Equipment Regulations 1998) . It is imperative that equipment comply to the standards required for different types of activity, and it cannot be assumed that every item is automatically suitable. For example, the Petzl Vertex Vent helmet is a great helmet for keeping your head cool, but the holes for ventilation ensure that it does not comply with regulations regarding electrical discharge and molten metal splash - so in this situation you'd need the Petzl Vertex Best helmet, which has no ventilation holes and is tested to the appropriate standard.

Who and What is involved in the regulations?
These are generalised introductory notes and do not aim to give anything but a simplified introduction to the regulations - please see the full regulations as described above.

When Do The Regulations Apply?
These rules are relevant to you if you employ people who will be at risk of falling, from any height - even at ground level. They also apply to the self employed - in fact anyone who is responsible for organising work of any type at height. There are some special conditions for emergency services and the like.

What Are Your Responsibilities?
In general terms:
Planning: As leader or employer, you are responsible for planning, supervising and monitoring any work at height. This includes checking equipment, and stopping work in poor weather. You must also ensure that the person doing the work is
competent to do so, or is being trained by a competent supervisor.
Fall Prevention: The leader or employer is responsible for taking measures to prevent falls. This includes providing safety
equipment to minimise the distance and consequences of a fall.
Equipment Selection: Where it isn't practical for work to be carried out from a place or work, equipment must be selected to ensure the employee is not put at risk. The choice of equipment will depend on distance negotiated, duration and frequency of the work, and it should also be chosen with emergency evacuation or rescue in mind. To fulfil their duties, employers should be able to show that they have considered all of the potential risks and made an informed decision. The
Regulations specify certain equipment or systems for different working situations – check them for information about your particular area of work.
Cordoning the Danger Areas: The employer is responsible for identifying danger zones, such as the ground below and around tructure, where anyone may be harmed by falling objects. The area should be properly delimited and signed for anyone who might be injured (employees or the public), and equipped appropriately.
Employee Reporting: If you are an employee or trip member, you are responsible for using equipment correctly, and for reporting any situation or equipment that you deem hazardous or have doubts about.
Regular Inspection: Employers are responsible for meeting the inspection requirements laid out in the Working at Height
Regulations. Equipment and sites must be regularly inspected, and checked before use.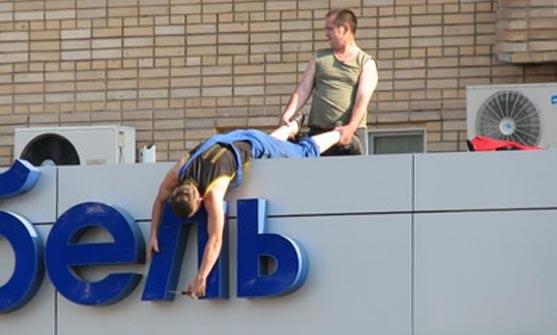 How to do it properly - work positioning



Work at Height Links
Manufacturers' Websites


One of the most useful sites, with videos and detailed specification sheets for every item sold, is Petzl's - at: www.petzl.com

www.kong.it
Regulations and Government Websites


PUWER (Provision & Use of Work Equipment Regulations)
LOLER (Lifting Operations and Lifting Equipment Regulations)

Work at Height Solutions Database from the HSE
HSE Advice on Falls - Regulations, Guidance and Tasks



Help and Advice - other websites

www.healthandsafetytips.co.uk has checklists and guidelines downloadable for free. This site is very useful and assumes no prior knowledge, so is worth checking out.

Technical notes from the Work at Height Safety Association
This is a manufacturers' association - this site publishes the latest technical papers and bulletins and can be good for updates on current technical issues
Choosing Work at Height Equipment

This is just a quick introduction to the basics; please follow links for further advice.

The ideal situation for work at height is: DON'T! HSE prefers that you make alternative arrangements such as a platform, scaffolding etc so that working at height is avoided, and this is preferable to needing work at height equipment.
If that isn't possible, and personal fall protection equipment is unavoidable, then you'll need to select a system which will minimise both the likelihood and the consequences of a fall.

If a personal fall protection system that prevents a fall is to be used , then it should be one designed to prevent the user being in an area where the risk of a fall exists, or one that prevents the onset of a fall by stopping a slip etc.Only if it is not practicable to do anything else should a fall arrest sytem be used as a last option.


Use the following methods in this order:

1. Ideal: Work restraint
This may be appropriate fall arrest equipment, work positioning equipment or just a work positioning belt coupled with a lanyard. The restraint system should be chosen and arranged so that a user can't be inside a zone where there is risk of a fall.

2. Next best: Work positioning
A work positioning system should be used allows the user to be in a partly or entirely supported position. The work positioning system should include a safety back-up system, in addition to the primary support, so that should there be an operator error or failure of the primary support, a fall will be prevented or arrested

3. Last resort: Fall arrest
Fall arrest equipment will not prevent a fall from occurring and these systems are therefore the least preferred methods of working at height Fall arrest systems contain a full body harness conforming to BS EN 361 and a system or device that provides a means of attachment to an anchor, and that has energy absorbing capacity.

Another point to remember is that ladders are considered to be easily the most dangerous solution to any work at height situation. Try not to use ladders at all; 'HSE's key message is that ladders should only be used for low-risk, short-duration work' - see the HSE page at: http://www.hse.gov.uk/work-at-height/using-ladders-safely.htm

Rescue equipment: The law requires that planning for work at height must include consideration of rescue and emergency procedures.

Competence Schedule 5 of The Work at Height Regulations requires that all users of Fall Protection Equipment must be competent to do so; quoting:
"The user and a sufficient number of available persons have received adequate training specific to the operations envisaged, including rescue procedures"