What Kit do I Need for an Expedition?
8th December 2017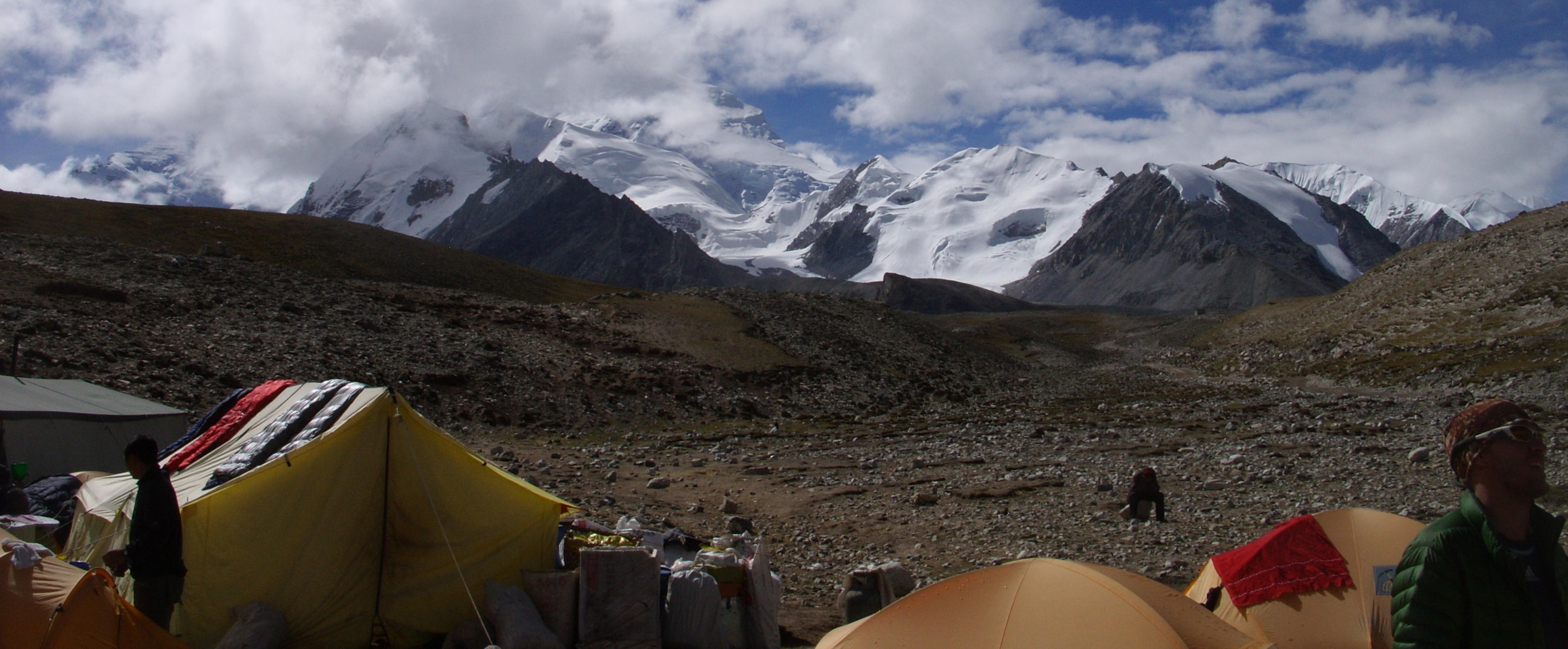 Expeditions are a difficult thing to kit yourself out for, and it's not possible to cover every option here - but we can give some general advice and recommend specific bits of kit as being particularly useful.
Between us at the Gearshack we've been on over 20 Himalayan trips as well as to South America, the Alps, New Zealand and elsewhere - so hopefully you'll find our information useful!

What do I need for a big expedition?

This will depend on where you're going, but here's a typical kit list for a big mountain expedition (courtesy of www.summitclimb.com ):

(Where notes are indicated in brackets e.g. (7), please see the numbered notes below for further explanations)

Climbing
Climbing harness;
A few slings; maybe 1 x 120cm and 2 x 60cm
Figure 8/Abseil belay device - not an ATC or similar (1)
1 large mitten sized ascender (e.g. large petzl) and arm length leash;
2 screwgate and 4 snaplink krabs
Ice axe with leash; (2)
Crampons - must fit boots perfectly. Steel crampons with anti-balling (anti-bot) plates are the best;
Adjustable trekking poles if you use them

Upper Body - Upper Body Clothing
2 cotton t-shirts for general non-technical use
1 polypropylene t-shirt (3)
2 long sleeve polypropylene shirts, lightweight
1 polar fleece pullovers, medium weight;
1 polar fleece jacket.
Gore-Tex jacket with hood, waterproof and breathable;
Lightweight down jacket for base camp;
For high altitude use, 1 very warm goose-down (duvet) jacket with hood, you may prefer a down/duvet suit (4)

Hands-
1 pr. lightweight polypropylene liner gloves. These will be worn when tying knots, or when you take your hands out of your mitts
1 pair mittens, consists of 1 Goretex and down over mitt matched with the very warm polar fleece mitt liner (5)
Head-
Warm hat wool or synthetic that covers your ears;
Balaclava;
Face mask;
Ballcap or brimmed suncap;
Glacier sunglasses with side shields (you can purchase these inexpensively in Kathmandu, including prescription sunglasses, which can be made for $20, it might take a week or two);
1 pair ski goggles (Optional) with light and dark lens;
Headlamp with extra batteries and bulbs; (6)
Bandana, Buff or head scarf, also useful for dusty conditions.

Lower Body-
Cotton underwear briefs;
1 pair walking shorts;
1 pair walking trousers for trekking and around camp;
2 pair lightweight thermal bottoms;
1 pair medium or expedition weight thermal bottoms;
1 pair polar fleece trousers;
1 pair Gore-Tex trousers, salopettes, or bibs. Waterproof/breathable with full side zips;
1 pr. Goose-down (duvet) trousers , salopettes or bibs. You may prefer a down suit.
Your clothing should be kept dry using waterproof stuff sacks, bin-liners, or large plastic bags.
Feet-
1 pair One-Sport Millet Everest boots, La Sportiva Olympus Mons or similar design (plastic climbing boots are not warm enough, even with over-boots or over-gaiters);
1 pair sturdy leather walking boots with good ankle support (leather trekking, not climbing boots) for the walk to basecamp and other trekking
1 pair trainers, running shoes and/or sandals for Kathmandu and in camp;
1 pair down booties (optional);
2 pair med-heavy poly or wool socks;
2- pair of liner socks. Polypropylene or wool;
2 pair lightweight trekking socks, poly or wool;
vapour barrier liner socks;
Cotton socks for in town.

Sleeping-
For high altitude, 1 down (duvet) sleeping bag (rated to – 20 Centigrade). In high camp, you can sleep in your down (duvet) clothing inside your sleeping bag;
1 additional sleeping bag for basecamp (good to -10 degrees C or 10 degrees F);
At least 3 closed cell foam kari-mats for use in basecamp and high altitude, not inflatable mats like Thermarest. These are cheap to buy in Kathmandu and can't go wrong. Thermarest mats will get punctured, and the consequences could be very serious. Don't rely on them! Try the Thermarest Ridgerest, which is a foam mat of very high quality.
Your sleeping bags should be kept dry using waterproof stuff sacks, bin-liners, or large plastic bags. back to top
Rucksack and Travel Bags-
1 medium rucksack (50-70 litres can be used for airplane carry);
2 large (120 L) duffle kit bags for clothing and equipment. Must be durable for use on pack animals;
Small padlocks for duffel kit bags.

Personal Hygiene-
female or male hygiene supplies;
2 tubes lip sun cream, 1 large tube skin sun cream (min.factor 15);
anti-mosquito cream;
1 toothpaste/brush;
1 bar soap or hand sanitizer gel/1 small towel;
hand wipes

Medical- (8)
small personal first-aid kit. (Simple and Light) Aspirin, first-aid tape, plasters (band-aids), personal medications, etc. The leaders will have extensive first-aid kits, so leave anything extra behind. Please let your leader know about any medical issues before the climb;
1 skin blister repair kit;
medications are inexpensive and readily available in Kathmandu with no Doctor`s prescription;
1 small bottle anti-diarrhea pills;
1 small bottle anti-headache pills;
1 small bottle cough and/or cold medicine;
1 course antibiotics for stomach infection, available locally at chemist shop or pharmacy with no doctor's prescription;
1 course antibiotics for chest infection, available locally at chemist shop or pharmacy with no doctor's prescription;
1 small bottle anti-altitude sickness pills: Diamox, Acetylzolamide.
1 small bottle stomach antibiotic: Ciprofloxacin, etc.;
Do not take sleeping pills. They are a respiratory depressant;
1 small bottle of water purification tablets or water filter;
1 set earplugs;
extra prescription glasses, contact lens supplies. Contact lens wearers, please bring glasses in case of emergency. A new pair could be quickly made in Kathmandu, Lhasa, or Kashgar for just $20. Please order upon arrival if you are interested.

Personal Food - snacks. You will often find that your appetite, if it exists, changes significantly at altitude. Believe it or not, chocolate becomes undesirable and for most people salty savoury foods are the only ones palatable. Try salted peanuts, Pringles and so on. Protein and meal replacement bars are good too, as they give you vital minerals and vitamins.

Practical
1 small roll of repair tape, 1 sewing repair kit;
1 cigarette lighter, 1 small box matches;
1 compass or GPS;
1 battery powered alarm clock/watch;
1 camera and film, or digital camera with extra cards and extra batteries;
nylon stuff sacks For food and gear storage, large Ziplocs are useful also;
3 Water bottles (1 litre) wide-mouth Nalgene (1 is a pee bottle);
1 plastic cup and spoon;
1 small folding knife;
binoculars (optional);
4 large, waterproof, disposable rubbish sacks;
passport, 2 extra passport photos, flight ticket, flight itinerary;
separate photocopies of passport and relevant visa pages, proof of insurance;
dollars, pounds or euros cash for purchasing Nepalese visa at Kathmandu airport, Tibet visa, for paying for restaurants and hotels, for gratuities, snacks, and to purchase your own drinks and gifts. Cho Oyu members are requested to bring at least $1000 cash with them to Tibet.
credit cards, Bank/ATM/Cash machine cards for use for withdrawing funds from cash machines (bring a photocopy of your cards), traveler's checks, etc.;
1 bathing suit/swimming costume (you never know);
Basecamp entertainment. It is good to bring additional items which you have found to be useful on previous expeditions. For example: paperback books, playing cards, ipod mp3 player, short-wave radio, game boys, musical instruments, ear plugs, lots of batteries, etc.; (7)
travel clothes for basecamp and in town.

This is not an exhaustive list.
Oxygen: You should consider whether or not you wish to use supplemental oxygen.
Group Equipment: Most expedition supply general equipment like tents, fixed ropes and so on - check this with your expedition provider.

Notes on equipment

(1) Fig 8 - don't assume that because you use another belay device that this will be OK for abseiling. Frozen or waterlogged ropes at altitude won't fit through other devices usually; use a Fig 8. It's unlikely (unless you've organised your own climbing trip) that you'll be doing much belaying - clipping in to fixed ropes is more likely.

(2) Ice axe - usually this will be a general ice axe for mountaineering, so go for a long axe (say 65cm or 70cm) rather than a technical axe. Especially if you're going on a commercial expedition you're more likely to be doing less tecnical climbing or trekking - so don't take a short technical axe unless specifically advised to do so!

(3) Polypropylene breathes far better than other fibres, and this is critical in keeping moisture away from the body. Other fabrics can trap moisture and when it freezes this can be a major problem.

(4) Most people recommend a down suit for 8000m peaks as being warmer than a down jacket and salopettes. Certainly Sherpas are insistent that this is better if you can get one. RAB make them; you can buy one in Kathmandu for $400-500.

(5) Get down mitts. These are only about £10-15 to buy in Kathmandu, but can be really expensive in the UK. There are other options made with synthetic fills and called 'Expedition' - but don't be swayed. Get down.

(6) Batteries - buy Lithium batteries. These are expensive but last much longer. You don't want your headtorch running out.

(7) Electrical devices - iPods and other devices may die at altitude. I have used iPods at 5800m without trouble, but ideally leave them at basecamp. The problem is that devices with spinning hard drives can be damaged by the thin altitude because the pressure is insufficient to keep the 'needle' and the disc apart. So on startup the needle scratches the disc and destroys it permanently. The moral is to bring devices with sold state hard drives. There are netbooks and the like with solid state hard drives for sale. Electronic books seem to be OK (eReaders).

(8) It is generally recognised that antibiotics aren't always the best things for you, and certainly in the UK we try to use them as a last resort. However, when in very remote locations you need to be far more ready to use antibiotics and other strong medication quickly. Your body can't repair itself effectively and has little resistance to infection; and you are also potentially far enough from rescue to be in danger if you don't use these medications. They are cheaply and easily purchased in Kathmandu and elsewhere in pharmacies without prescription.